Croquettes
Breaded chicken and cheese croquettes
Nutrition Facts
Serving Size 3 Croquettes (56g)
Servings Per Container 6
Amount per serving
Calories
120 Calories from Fat 50
% Daily Value*
Total Fat
6g
9%
Saturated Fat 2g
10%
Trans
Fat 0 grams
Cholestrol
20mg
7%
Sodium
320mg
13%
Total Carbohydrate
9g
3%
Dietary Fiber <1g
Sugars 1g
Protein
9g
17%
Vitamin A 2% Vitamin C 0%
Calcium 4% Iron 2%
* Percent Daily Values are based on a 2,000 calorie diet. Your daily values may be higher or lower depending on your calorie needs:
Total Fat
Saturated Fat
Cholestrol
Sodium
Total Carbohydrate
Dietary Fiber

Less than
Less than
Less than
Less than




65g
20g
300mg
2,400mg
300g
25g

80g
25g
300mg
2,400mg
375g
30g
Instructions
Storage:
Keep Frozen
Cooking Procedure:
Appliances and utensils vary; adjust cooking times accordingly.
For safety, must be cooked to an internal temperature of 165°F as measured by a meat thermometer.
Do not defrost
Deep Fryer:
Preheat oil to 350°F. Deep fry frozen Croquettes for 5 minutes or until fully cooked.
OR
Oven:
Preheat oven to 400°F. Bake frozen Croquettes on a lightly oiled baking sheet (turning halfway through baking) for 13~15 minutes or until fully cooked.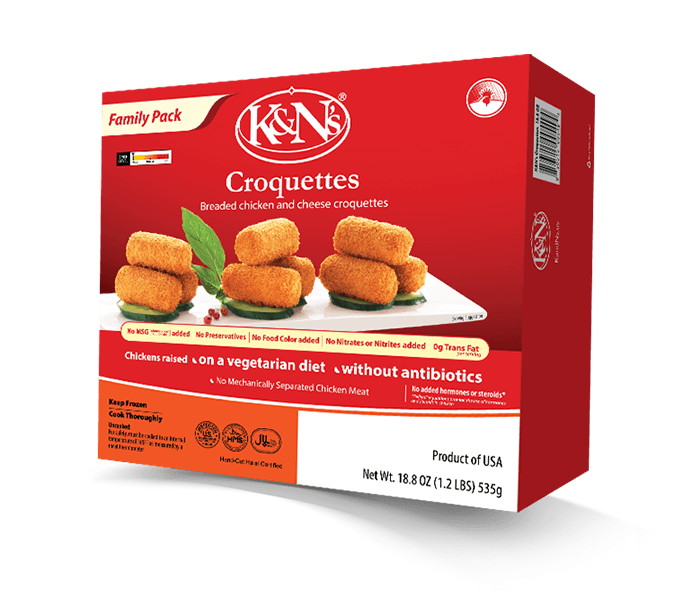 Cooking Procedure
K&N's Croquettes